1222
Apraksts

Pamatinformācija

Uzņēmums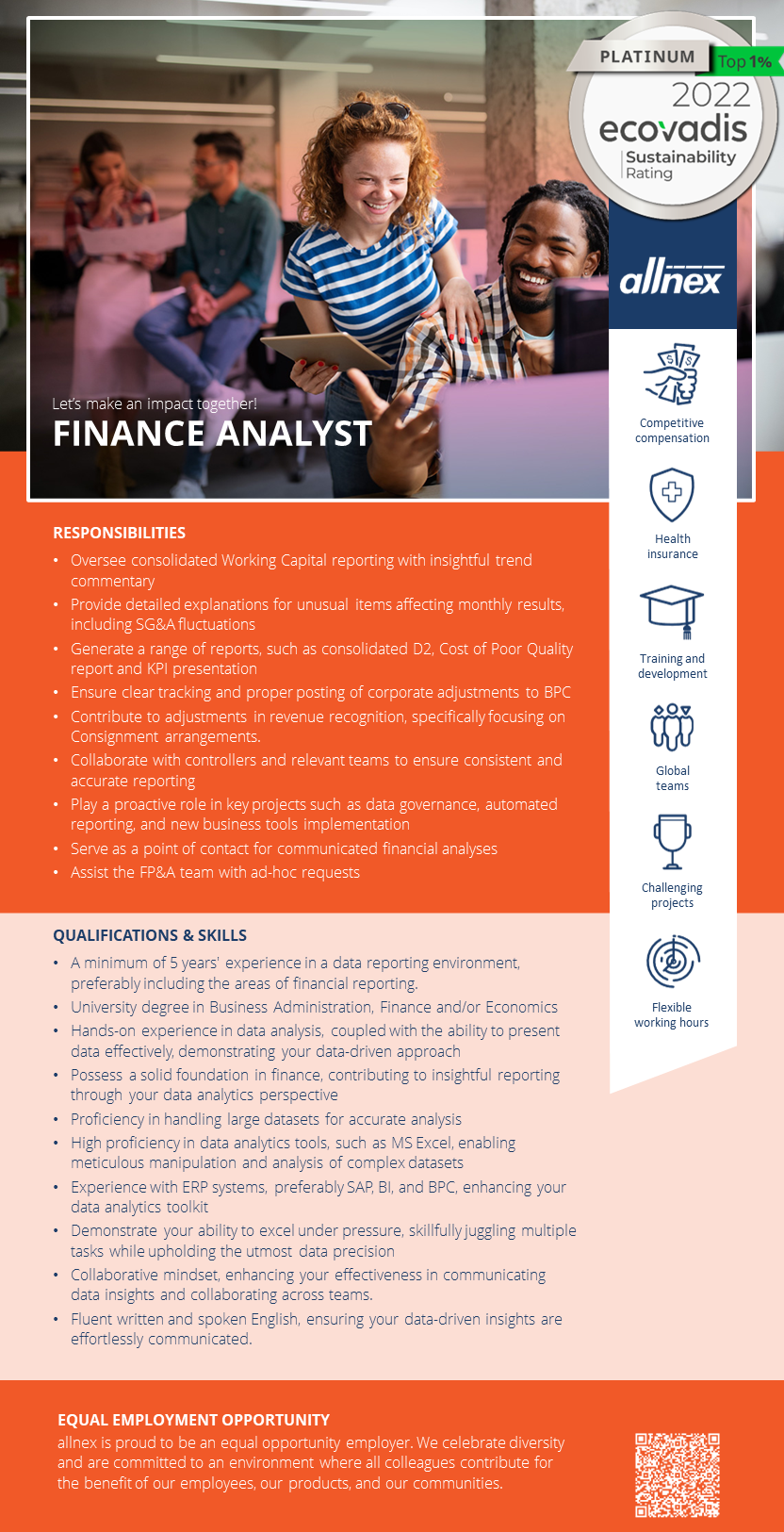 Position overview
Are you a data-driven finance enthusiast, skilled in translating numbers into actionable insights? Join our team as a Finance Analyst at the allnex Riga Global Business Service (GBS) center and take center stage in optimizing our financial landscape through the lens of data analytics.
As a Finance Analyst, you'll team up with cross-functional experts to deliver monthly and quarterly consolidated reports, injecting data-backed strategies into our business decisions. Your meticulous approach will come to the forefront as you scrutinize input data and pioneer enhancements for data integrity.
Unleash your potential as a Finance Analyst, revolutionizing how we harness financial data to drive our triumphs. Come aboard and let precision and strategic foresight be the guiding stars of our enterprise.

Responsibilities
Oversee consolidated Working Capital reporting with insightful trend commentary
Provide detailed explanations for unusual items affecting monthly results, including SG&A fluctuations
Generate a range of reports, such as consolidated D2, Cost of Poor Quality report and KPI presentation
Ensure clear tracking and proper posting of corporate adjustments to BPC
Contribute to adjustments in revenue recognition, specifically focusing on Consignment arrangements.
Collaborate with controllers and relevant teams to ensure consistent and accurate reporting
Play a proactive role in key projects such as data governance, automated reporting, and new business tools implementation
Serve as a point of contact for communicated financial analyses
Assist the FP&A team with ad-hoc requests

Requirements
A minimum of 5 years' experience in a data reporting environment, preferably including the areas of financial reporting.
University degree in Business Administration, Finance and/or Economics
Hands-on experience in data analysis, coupled with the ability to present data effectively, demonstrating your data-driven approach
Possess a solid foundation in finance, contributing to insightful reporting through your data analytics perspective
Proficiency in handling large datasets for accurate analysis
High proficiency in data analytics tools, such as MS Excel, enabling meticulous manipulation and analysis of complex datasets
Experience with ERP systems, preferably SAP, BI, and BPC, enhancing your data analytics toolkit
Demonstrate your ability to excel under pressure, skillfully juggling multiple tasks while upholding the utmost data precision
Collaborative mindset, enhancing your effectiveness in communicating data insights and collaborating across teams.
Fluent written and spoken English, ensuring your data-driven insights are effortlessly communicated.

We offer
Monthly gross salary starting from 2,000 EUR, depending on skills and experience
Partially working from home option
Transportation allowance
Health, accident and critical illness insurance
Annual bonus program and special recognition awards
Excellent working conditions in modern environment
An international exposure in a cross-cultural community
Training, great opportunities to grow and develop your career nationally and internationally
Companys social events

Mēneša bruto alga
Bruto mēnesī
  € 2000
Papildu informācija:

 Monthly gross salary starting from 2,000 EUR, depending on skills and experience
Atrašanās vieta
Rīga, Rīgas rajons,

Latvija


G. Astras iela 1c
Darba veids
Pilna slodze
Elastīgs darba laiks
Kontaktpersona
Olafs Bērziņš

Eight reasons why you should join allnex:
We are in the lead. We are proud to be the largest industrial coating resins supplier in the world
We are pioneers of green thinking. Being environmentally responsible has always been a key part of what we do
We are entrepreneurs. We strive to be the strategic partner for our customers, providing innovative solutions for their needs.
We celebrate diversity. Diverse in our backgrounds, talents and ideas, we can accomplish anything together.
We have a rich history. We have a strong heritage in leading chemical companies globally, dating as far back as 1918.
We prioritize our people. Our company is only as good as the sum of our people. We focus on training, promoting leadership and teamwork to help you succeed.
We are global as it gets. 35 countries, 50+ nationalities, clients almost everywhere.
We are great bunch of people. If you enjoy connecting and working with talents across the globe, you've come to the right place.
---
---
Reģistrācijas numurs
: 40103815035
Tev varētu interesēt arī:
Junior Data Analyst

Grāmatvede/-is (uz noteiktu laiku - 2 gadi)

Finanšu speciālists/-e